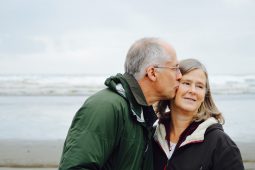 Married for life, not for lunch
'Married for life, not for lunch'. For some this quip is a light-hearted joke about adjusting to full time life with a partner or spouse. For others though, it's the sad reality of a relationship that didn't survive the retirement transition. They even have a name for it: 'grey divorce'.
Without a doubt, retirement is a big transition. And when adjusting to any life change we know that it's our supports who can really help get us through. But what if our most supportive relationship is struggling to adjust to the 'new normal'?
Like other aspects of retirement transition, successfully navigating the experience with your relationship intact benefits from planning.
Planning can start years before you actually retire, and should continue through the retirement journey. The first step is to get on the same page by having regular and open conversations with your spouse about your hopes, needs, and expectations for retirement. These conversations help you both to check your assumptions, raise differences in your thinking, and highlight areas you agree on. We should expect some different opinions – it's ok to have different aspirations and plans for your retirement life – but by having regular conversations with your partner you can listen and work out where your plans mesh nicely together, and where they might cause friction.
Remember, the point of these conversations is so you can plan a retirement lifestyle that works for you both.
Conversations are best had when neither of you are stressed, defensive or tired – so definitely not right after an argument about work, money or family!  Start by creating a relaxed environment, with plenty of time and no interruptions.  Listen with kindness and curiosity about your partner's thoughts and feelings about retirement, and be willing to share honestly and respectfully your thoughts about retirement life.  Here's some open-ended questions and prompts to get you started.
At what age do you plan to retire?
Do you think you'll wind down work gradually, or just stop?
Are we both going to retire at the same time?
What sort of lifestyle do you want in retirement?
How well is our current financial planning set up to fund our preferred retirement lifestyle?
Where do you want to live in retirement? What are your thoughts about different options, such as to stay in our current home, downsize, sea change, move to a retirement community?
What would you like an average day to look like? Talk through the way you imagine an average day in retirement will go – wake up time, regular routines, etc
Will your weekdays be the same as the weekends?
How have friends or family members made the transition to retirement? What aspects do you want to do the same, which might we do differently?
Does the sharing of household tasks look different once we're both retired, or if only one of us is working? How will we come to agreements about housework?
What are your thoughts about annual income, discretionary spending? What will our daily lifestyle and expenditure look like if only one of us has retired?
Is one of us a saver and one of us a spender? How will we navigate this when there is no longer an income? Will we use a budget, separate money?
What are your priorities in retirement living – family, travel, lifestyle, community or something else?
How closely do our retirement lifestyle priorities align with our financial situation?
If we can't find agreement or compromise, what are we willing to do to invest in our relationship during this transition? Regular conversations, books, couples counselling?
What are your thoughts about personal space and time alone? How much time do you expect to be together, how much time apart? How will you communicate it if you need some alone time?
What activities will we do together? What activities will we do separately?
What are your thoughts about space at home, how will we share the space, do we have different projects or activities that need time and space?
Keep adding your own questions and discussion topics.
Sometimes couples benefit from having a trained professional to help navigate challenges in the relationship. See Transitioning Well's guide on choosing a psychologist for some practical tips. While couples counselling is not generally covered by a mental health plan from your GP, you may be able to claim back some money through private health insurance depending on your cover.
Relationships Australia have counsellors in each state and territory with specific training and experience, and fees are based on your capacity to pay. Low cost relationship counselling can be available through community counselling services. Eligibility for these is often based on geographic location. Either contact your council to find local services, or seek referral information through: MensLine or Women's Information and Referral Exchange (WIRE).
If you're worried about the mental health of yourself or your partner, talk with your General Practitioner.